Train communities to become filmmakers, photographers and citizen journalists.



Citizen Camera works closely with communities to help develop media skills and record personal stories and expe
riences. This creates unique media products and helps both community and your organisation to transmit relevant and exciting information. See the bottom of this page for an example of factual film training.
Why Training?

Training for communities is highly beneficial for the participants and past participants have told us that the training:
• Enables them to explore issues affecting them,

on their own terms.
.
• Increases confidence and boosts self esteem.
.
• Teaches them skills they can use in their future careers.
.
• Enables them to work as a team and increases communication skills

.
There are also a variety of ways that the training is beneficial for the charity, including:
Providing opportunities for participants such as additional media skills, confidence and team work.


Documenting the first hand views and experiences of the participants on a variety of issues affecting them.


Creating media products (such as stories, films and photographs) that the organisation can use in campaigning and fundraising.


Ensure that your campaigning and fundraising media is fairly representative and created internally by participants.



Opportunity to have unique and powerful media showcasing the voices of the people that you help to get your message across to policymakers, donors and the general public.
Workshops

There are a variety of different types of training, and each course is customised to your requirements. Some examples of courses we teach are below, for a more comprehensive list, please contact us.


Documentary and Video Journalism 101

(basics of filming techniques and short film editing)



Intermediate Documentary and Video Journalism

(more advanced interview skills, editing techniques, lighting etc)


S

etting up a Community Online News Station

(journalism, video journalism and basic website maintainence)


Documentary Photography and Photojournalism



Short Film

(drama)
Sustainability

We want to ensure that the media activity carries on long after we finish the workshops. Therefore, we ensure that all our teaching models are sustainable.

We offer 'train the trainer' workshops where we will train a volunteer or staff member to continue the work we have set up (this is especially important when working with children and young people). We are also able to recommend qualified volunteers to help continue the work.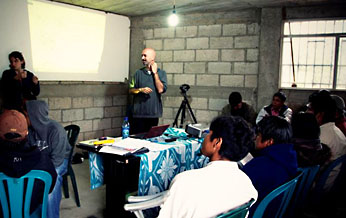 Our team has worked for a variety of organisations and have had work shown on TV channels. These include: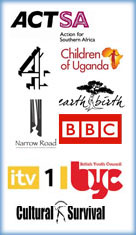 Click the image above or visit www.guatemalafilms.yolasite.com to see an example of a Citizen Camera community film project. Working with Mayan communities in Guatemala, the workshops taught storytelling and documentary filmmaking skills creating a sustainable programme so that the marginalised community could continue to represent themselves and their local news through short factual films.
Citizen camera set up training
centers
in Uganda in 2009 working with the NGO's
Children of Uganda
and
Narrow Road
. Training the children using film and photography.
Click on the image below to download a PDF of images taken by young participants of our Photography Workshop at Sabina House, Uganda.